our location
Timberlost Outfitting is remotely located between Big River and Leoville, Saskatchewan. It is situated in lush northern Saskatchewan boreal forest, approximately 140 miles north of Saskatoon. Saskatchewan Environment has rated this area as one of the best in Saskatchewan based on deer habitat and density. The black bears and Canadian geese are plentiful and well worth the trip to Canada! The clear waters of the numerous lakes in the area are teeming with northern pike, walleye and rainbow trout. There is ample opportunity for fishing after getting your monster whitetail or big bear. We have fifty one non-resident deer tags on 120,000 acres, twenty non-resident bear tags on 100,000 acres, nineteen farmland bear tags, and do migratory game birds.

The exact loc of Timberlost Outfitting is:
N 53 degrees 49,484
W 107 degrees 21,548
your stay with us
Your stay with us may differ depending on which camp you will stay at, I basicaly have the ability to hunt out of three camps depending where the biggest and most game are.  If you prefer a specific camp just let me know and we can rig something up.
My Higgins camp is located out on a remote lake in the middle of my hunting area which is only accessible by a side by side. At this camp expect a lot of riding cause thats how we get to all the stands it can be a 5 min quad ride to an hour just depending on where the trophys are at. The cabin is magnificently finished with pine interior, a wood burning stove, a bathroom, shower, full kitchen and living area. The main lodge sleeps six people and the guide shack sleeps four. There is also a shop where we keep all the side by sides and a scent free change room where we keep all of your hunting cloths in. Timberlost Outfitting provides a wood fired hot tub, satellite TV, and a cell phone booster.
Our Capasin camp is located in the farmland about ten minutes south east of Leoville. It is located on one of the most scenic views in all of Saskatchewan over looking the Big River valley. Its is a 50 feet by 100 feet shop with 2100 square feet of living space on the second level. We hunt our waterfowl and our farmland bear out of this camp.
This camp has vechile access and all the emminites cell service, washer/dryer, two bathrooms, heated shop area where we skin the animals and park the quads inside. Some of the stands we are able to a side by side right from camp and other stands we will drive with a truck and trailer and unload the side by sides when we get close to the stands and have a short ride into the stand.
Our Shell lake camp is located on a great fishing lake and is vehicle  accessible on my west side of my hunting area in the forest.
This camp has a beautiful brand new lodge that has five bedrooms so every hunter gets his own room, two bathrooms.  Also has wifi, satellite TV,  and washer/dryer.  At this camp you will ride in a side by side to your stands or else in a jeep.
All of our 60 deer stands and 45 bear stands are monitored by its own trail camera, which combined with knowledge of recent animal sign in the area allow us to provide you with the best shot at getting a trophy. All stands range from 14 feet to 24 feet high and are tarped with a camouflage skirting to hide movement. I also have about 30 ground blinds with heaters in them. Deer bait piles are 100 yards away from each stand, Bear baits 20 yards away.
owners & our area
Timberlost is owned and operated by Devin Beebe. This area was previously owned by the late Wade Higgins, with Otter Creek Outfitting.  Devin is a full time Outfitter, so rest assured you know when you book a hunt with him he puts every ounce of his energy to make sure you go home happy and successful so you will tell your friends exactly where to hunt if they come to Saskatchewan.   Timberlost is family oriented, with Devin's dad, Tom as one of the head guides and his mom, Barb does the cooking at one of the camps.  Devin's wife Terri also does some of the cooking and is the on site Doctor.  The staff at Timberlost are all local seasoned hunters and guides.  Timberlost aims to provide you, the hunter, with a once in a lifetime experience. Guaranteed, you will be entertained by many humorous stories over appetizing dinners.
our history
The name Timberlost is from the community of the same name that was founded in the early 1900s in this area. There were two schools, a church and a post office. Due to the remote location of the community, the settlers were forced out of their homes by the government in 1950. Devin's grandfather Frank was one of the pioneers who called the wilderness town his home.
hunt whitetail deer, black bear and waterfowl in Saskatchewan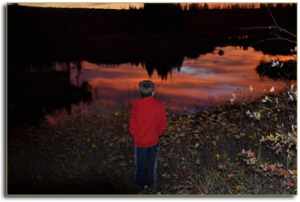 Timberlost Outfitting is the perfect getaway from the stresses of everyday life. The only sounds you'll hear are the whisperings of the forest. We strive to make this a relaxing and refreshing vacation for you. And honestly put all of our efforts into sending you home with stories of skies filled with waterfowl or a Trophy Whitetail or Black Bear that you will be proud of to take home and tell your family and friends that Timberlost Outfitting is the Land of the Giants.
We look forward to seeing you at Timberlost!
Come as a client, leave as a friend!
our guides