Thank you for visiting our website. On behalf of the Beebe's I hope our website helped you make your decision about where to hunt a little clearer. I am not only an Outfitter but I'm also a hunter that has booked hunts all over the world and I know picking an outfitter is not an easy task. My only recommendation is to call references that have hunted with the company you're interested in (I personally like talking to people that live close to me)  so if you let me know which state you're from I can usually provide you a reference to call right from your state. I also look to see if an Outfitter is local to the area and if his full time job is hunting, which both are true on my behalf - I'm from Leoville and outfitting is what I do year round. Please take a minute and fill out the contact form below. You can then be on our email list so we can email you more pictures and keep you up to date with what's happening at Timberlost Outfitting. Feel free to call me anytime of the day as I carry my cell phone with me 24/7.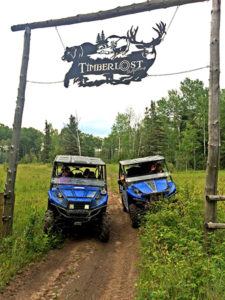 Timberlost Outfitting
c/o Devin Beebe
Box 537
Leoville, Saskatchewan
Canada  S0J 1N0
Telephone: 1-306-821-2726
Email: saskatchewanoutfitting@gmail.com
Secure your spot with Timberlost Outfitting whitetail deer hunt, black bear hunt, or waterfowl hunt by depositing money through PayPal or Visa. The best way is just to mail a check to address above and make the check out to Timberlost Outfitting. Also required will be for you to print out a hunter contract that is located under our forms, print it out fill all your information on it and mail with with your check. Important Notice: Please do not put a deposit down before you talk to me about openings.
Send Us a Message
Thank you for visiting Timberlost Outfitting. See you soon!