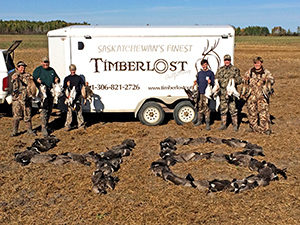 Our area is the first stop on the largest migration corridor in North America. Virtually all the land north of us is forest. The rich agricultural belt that spreads south begins at Timberlost Outfitting. The location is PERFECT for goose and duck hunting as we get the first shots at the flocks flying south so they decoy in great. Each year the sky fills with migrating waterfowl eager to replenish their energy stores. The sheer numbers of ducks and geese is truly something to witness. Canada Goose hunting and Snow Goose hunting is typically in the mornings, and duck hunting (or grouse hunting) is usually in the afternoon both over fields.
Our waterfowl guides have access to hundreds of square miles of the best goose hunting and duck hunting in Saskatchewan.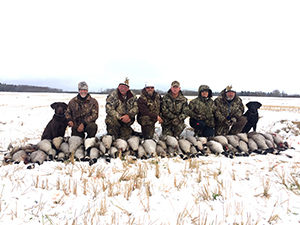 Having grown up along side the farmers in the area we have a healthy relationship with them and have access to thousands of acres of prime hunting. The most important component of a good waterfowl hunt is SPOTTING, which is why our intensive spotting program is the backbone of our success. We spend many hours spotting each day, drive countless miles every week and put in many phone calls to the farmers to ensure that you are hunting the best possible fields.
Choosing the right waterfowl outfitter can be a challenge, we invite you to do your research, keep looking through my website for more information and ask around and you will find that Timberlost Outfitting is the best outfitter in the industry. Contact us anytime if you have any questions or concerns or to ask us for a list of past clients for references.  All of our hunts are 5 days of morning goose hunts and 4 afternoon duck hunts. I have 4 different packages that range from $2500 to $4000 which can be viewed below on the pricing link.
Book your hunt with us!
Contact Devin Beebe
Phone 1-306-821-2726
Email saskatchewanoutfitting@gmail.com
Waterfowl 2017
Sept 10 to Sept 16
Sept 17 to Sept 23
Oct 1 to Oct 7
Oct 8 to Oct 14
Waterfowl 2018
Sept 9 to Sept 15
Sept 16 to Sept 22
Sept 30 to Oct 6
Oct 7 to Oct 13
Waterfowl 2019
Sept 8 to Sept 14
Sept 15 to Sept 21
Sept 29 to Oct 5
Oct 6 to Oct 12
Waterfowl 2020
Sept 13 to Sept 19
Sept 20 to Sept 26
Oct 4 to Oct 10
Oct 11 to Oct 17
"From the second we landed and started driving to the hunting lodge we knew this was going to be an unbelievable hunt. The amount of geese and ducks that we saw in ponds and flying we knew we had to be ready. On arrival to the lodge the Beebe family welcomed us to our accommodations, very homely and comfortable. The view from the lodge overlooks a valley that is breathtaking. As for the hunt :the scouting, decoys and lay down blinds provided for an incredible Greater Canadian Goose shoot. Everyday we were able to limit out on Greater's and we did shoot a good amount of snows, did not limit out. As for ducks we shot some in the morning and limited out in the afternoon hunts. Good home cooked meals by Devin's mom for lunch and dinner provided us with very full stomachs. Will return for years to come." -Joaquin, Miami, FL • Click here to read more testimonials