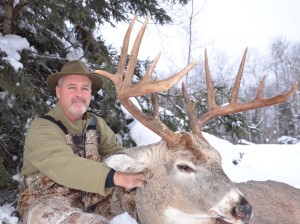 Timberlost Outfitting offers fully guided Saskatchewan, Canada Trophy Whitetail Deer Hunting. Timberlost Outfitting is a Trophy Hunters paradise due to the good genetics, perfect habitat and few hunters, offering great opportunities for bucks over 170". Firearm hunts and archery hunts are offered on a limited basis to maintain a low pressure hunting environment. We have 50 deer tags on 100,000 acres, but may not take 50 hunters if the deer herd appears it may not withstand that many hunters.
I have an intensive feeding program; I dont just feed the deer to get that one big buck, I feed them to keep the whole herd healthy. We have around 55 baits station throughout our whole area and try to keep the stands around 2 kms apart with trail cameras going 24 hours a day 7 days a week.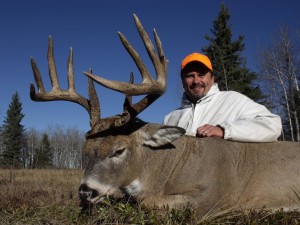 We have a lot of repeat hunters with us and after discussing with them, we have decided that if a hunter doesn't squeeze the trigger, Timberlost will give him back $1000, and if any 10 point or more buck is shot that does not gross 140 inches there will be a $1000 fine in order to promote world class bucks.
Best herd management practices, maintaining year round nutrition with various mineral and salt licks, and predator control ensure our trophy whitetail deer develop to their fullest potential.
Whitetail Deer hunts are $5000 plus licenses ($450). Cost includes meals, lodging, trophy prep, taxes, pickup and drop off in Saskatoon. The hunts are 5.5 days and we require half down for a deposit and the remaining balance to be paid 2 months prior to coming on the hunt. Licenses can be paid in cash when you arrive at camp since the government sometimes changes the price.
All Trophy hunts start at Timberlost!
Deer 2017
Oct 29 to Nov 4 Archery/Muzzleloader
Nov 5 to Nov 11 Rifle
Nov 12 to Nov 18 Rifle
Nov 19 to Nov 25 Rifle Thanksgiving Week
Nov 26 to Dec 2 Rifle
Deer 2018
Oct 28 to Nov 3 Archery/Muzzleloader
Nov 4 to Nov 10 Rifle
Nov 11 to Nov 17 Rifle
Nov 18 to Nov 24 Rifle Thanksgiving Week
Nov 25 to Dec 1 Rifle
Deer 2019
Oct 27 to Nov 2 Archery/Muzzleloader
Nov 3 to Nov 9 Rifle
Nov 10 to Nov 16 Rifle
Nov 17 to Nov 23 Rifle
Nov 24 to Nov 30 Rifle Thanksgiving Week
Deer 2020
Nov 1 to Nov 7 Archery/Muzzleloader
Nov 8 to  Nov 14 Rifle
Nov 15 to Nov 21 Rifle
Nov 22 to Nov 28 Rifle Thanksgiving Week
Nov 29 to Dec 5 Rifle
BOOK YOUR HUNT WITH US TODAY!
View our lodging here. Please note: Shell Lake & Higgins Camp are offered for whitetail hunts*
Contact Devin Beebe
Phone 1-306-821-2726
Email saskatchewanoutfitting@gmail.com
"On Nov. 9-15th, I attended a whitetail-hunting trip with Timberlost Outfitting. I was met by Devin Beebe, the night of Nov. 8th at the Sandman hotel in Saskatoon to discuss my expectations. We left the next morning and drove to his hunting camp, which was very well kept and comfortable. It was a very professionally run camp and Devin had obviously done his homework. He had a lot of game camera footage of the deer in his area and knew their habits. Devin's Mom was the cook and the food alone was worth the trip. Devin's father was also a guide and was a huge help. To make a long story short with Devin and his father's help I was able to take a 150BC class buck. I have already booked for next year and cant wait to get back!" -Clint Dunn, Katy, TX • Click here to read more testimonials