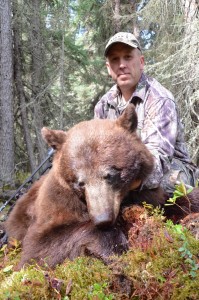 Timberlost Outfitting offers fully guided Saskatchewan, Canada Black Bear Hunting. We have a huge area for forest and farmland bear hunts; Timberlost has 20 forest bear tags on 88,000 acres and 20 farmland land bear tags on 1000 square miles.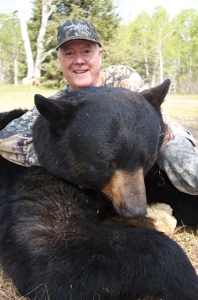 Our area has some of the most prime bear real estate in the province and country, and we have some of the best fishing around which we do every morning of the hunt. We've been seeing sows with four cubs quite frequently which is a sign of excellent habitat and breeding environment.
We hunt 20 forest tags and roughly 12 farmland bear tag in the spring and then save the remainder of bear tags for fall spot and stalk in the oat fields. We have around 35 different bait stations that we bait religiously. We have trail cameras on all of our bait stations going 24 hours a day 7 days a week so we know whats coming in, to get our clients their best chance at shooting a mature bear.
Every year we shoot a few of those once in a lifetime bears, what I like to call the 500 pound class, 22 inch skulls. We shoot a few coloured bears every year but only if they are mature so they spread the genes around. All of our baits stations are approximately a 20 yard shot, so you can use which ever weapon suits you. We usually get set up in the stand around 4 pm, after a morning of fishing and a hearty dinner.
Black bear/fishing hunts are $3200 plus licenses (around $300).  Cost includes meals, lodging, trophy prep, taxes, pickup and drop off in Saskatoon.  The hunt is 5 days and we require half down for a deposit and the remaining balance to be paid 2 months prior to coming on the hunt.  Licenses can be paid in cash when you arrive at camp since the government sometimes changes the price.
Click here for our black bear gallery
Bear 2017
May 7 to May 13
May 14 to May 20
May 21 to May 27
May 28 to June 3
Bear 2018
May 6 to May 12
May 13 to May 19
May 20 to May 26
May 27 to June 2
Bear 2019
May 5 to May 11
May 12 to May 18
May 19 to May 25
May 26 to June 1
Book your hunt with us!
Contact Devin Beebe
Phone 1-306-821-2726
Email saskatchewanoutfitting@gmail.com
"We had the chance to hunt with Devin Beebe and Timberlost Outfitting in Leoville, Saskatchewan for Black Bear this past spring. Being a host of one of Canada's leading outdoor productions, I have had the opportunity to travel all over this country to film episodes for our show. I would have to say that without a doubt that Timberlost outfitting provided The Hunting Chronicles TV Show with the best Bear hunting experience that we have ever experienced with any outfitter. I highly recommend Devin and his outfit to anyone wanting to experience a Bear hunt of a lifetime, full of unforgettable memories." -Chris David, Host & Producer of The Hunting Chronicles • Click here to read more testimonials here